economy news online news
Stock markets mostly retreated Thursday as a clutch of central banks in Europe hiked interest rates again to combat persistently high inflation. online news
The Bank of England and its peers in Switzerland and Norway further tightened their monetary policies, a week after the European Central Bank did the same.
Turkey's central bank, which for two years had followed President Recep Tayyip Erdogan's unorthodox policy of dealing with high inflation by cutting rates, changed course and nearly doubled its rate to 15 percent.
A day after data showed UK inflation remained at 8.7 percent in May, the Bank of England raised its key rate for a 13th consecutive time.
The hefty half-point increase brought the rate to five percent — a 15-year high.
The size of the increase "has confounded market expectations", said CMC Markets UK analyst Michael Hewson.
"Today's move is tantamount to an acknowledgement that they have been materially behind the curve when it comes to the rate hiking cycle and will inevitably invite criticism that the MPC (monetary policy committee) in reacting now, is inviting a recession," he added.
Norway's central bank also chose a half-point increase, raising the rate to 3.75 percent as inflation was "markedly higher" than expected.
The Swiss central bank increased its rate by a quarter-point to 1.75 percent and warned of possibly more to come as inflationary pressure has increased.
London's blue-chip FTSE index ended the day down 0.8 percent. Frankfurt slid 0.2 percent and Paris fell 0.8 percent.
Wall Street stocks were mixed in late morning trading, with the Dow slipping 0.2 percent, the broader S&P 500 flat and the tech-heavy Nasdaq Composite adding 0.4 percent.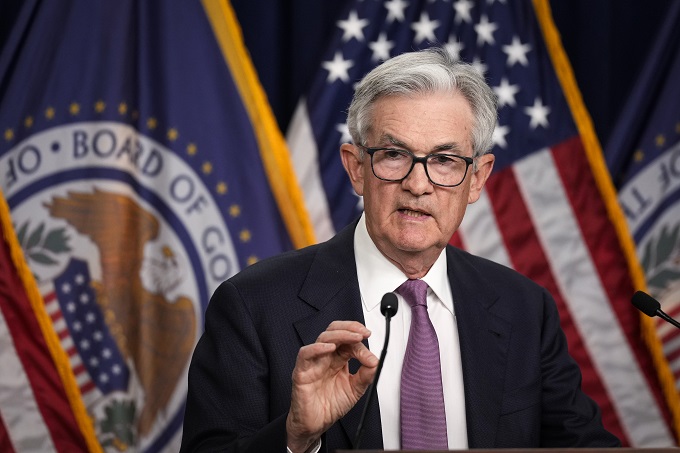 Markets had already reacted negatively to comments Wednesday from Federal Reserve chief Jerome Powell, who warned Congress that more rate hikes "may make sense" after the US central bank kept them unchanged last week.
Last week's pause, the first since March, had raised hopes that the Fed was close to calling it a day altogether, thanks to slowing price rises and a softer jobs market.
"With Federal Reserve chairman Jay Powell also showing no sign of resiling from the hawkishness of last week's statement of two more rate rises the idea that rates might come down by year end is being pushed further into the realms of oblivion," said Hewson.
The expected increase in US rates has revived worries the economy will tip into recession.
While the Fed paused rate hikes last week, the European Central Bank joined Canada and Australia in hiking borrowing costs further.
Traders have also been worried about the health of China's post-Covid economic recovery and the response of policymakers.
The Chinese central bank slashed rates last week in efforts to kickstart the economy but a reduction of its main benchmark rate this week disappointed as it was smaller than expected.
The failure of Beijing to unveil any concrete policies to boost the stuttering economy has fed fears that the recovery from a Covid lockdown-induced slowdown has already come to an end.
With interest rates and the prospect of recession rising, which would dampen demand for oil, crude prices fell sharply.
Key figures around 1530 GMT
New York – Dow: DOWN 0.2 percent at 33,900.55 points
London – FTSE 100: DOWN 0.8 percent at 7,502.03 (close)
Frankfurt – DAX: DOWN 0.2 percent at 15,988.16 (close)
Paris – CAC 40: DOWN 0.8 percent at 7,203.28 (close)
EURO STOXX 50: DOWN 0.4 percent at 4,304.47 (close)
Tokyo – Nikkei 225: DOWN 0.9 percent at 33,264.88 (close)
Hong Kong – Hang Seng Index: Closed for holiday
Shanghai – Composite: Closed for holiday
Euro/dollar: DOWN at $1.0956 from $1.0990 on Wednesday
Pound/dollar: DOWN at $1.2740 from $1.2766
Dollar/yen: UP at 142.86 from 141.87 yen
Euro/pound: UP at 86.01 pence from 86.07 pence
West Texas Intermediate: DOWN 4.0 percent at $69.61 per barrel
Brent North Sea crude: DOWN 3.7 percent at $74.26 per barrel
burs-rl/lth
© Agence France-Presse. All rights are reserved.
economy news online news
Notes from APS Radio News
During the past few years, a number of the world's central banks have engaged in massive programs of monetary expansion, even as jobs and businesses were lost by way of virus-related restrictions and quarantines.
For example, beginning in March of 2020, the US Federal Reserve engaged in a substantially greater program of monetary expansion by purchasing hundreds of billions of dollars of Treasury and corporate bonds.
Since the early part of March 2020 to date, the Federal Reserve has added over $4 trillion to its holdings.
In particular, whereas on or about February 24, 2020, the holdings of the Federal Reserve stood at $4.2 trillion, on or about January 17, 2022, the holdings of the Federal Reserve stood at about $8.9 trillion.
As well, the Federal Reserve has kept interest rates low.
Recently, Jerome Powell, the head of the Federal Reserve, said that he wasn't concerned about inflation and that, for the none, the Federal Reserve would keep interest rates at low levels.
Another examples is that of the Bank of Japan.
According to Fred Economic Data, as of October 2021, the Bank of Japan's holdings were about $6.4 trillion or about 725 trillion Yen.
In the early part of March 2020, the Bank of Japan's holdings were $5.3 holdings. During the period mentioned, the Bank of Japan added over one trillion dollars to its holdings.
A number of corporations have been borrowing money inexpensively and have been purchasing their own shares of stocks, increasing share prices of stocks.
Still, there are concerns among investors.
A number of them have expressed concerns about central banks' eventually increasing interest rates, as, during the past year, inflation levels have been increasing.
economy news online news
The combination of low interest rates, expansive monetary policies, fiscal stimulus programs, which themselves have infused trillions into the US economy, and shortages of goods and services caused by virus-related restrictions and lockdowns has increased levels of inflation.
Investors also have worried, for example, about announcements that were made by companies like Toyota and VW; months ago, those companies announced that because of shortages of particular types of material, they would be reducing levels of production.
Months ago, the results of a survey of UK manufacturers were released.
That survey indicated that many businesses in the UK were concerned about shortages of supplies.
In general, jobs and businesses have been lost by way of mandates, restrictions and quarantines, which, in their turn, were imposed by way of the virus narrative.
In the US, overall, the mortality rate of the virus is about .069%, according to Statista, an award-winning service.
The recovery rate is over 99% for most age groups.
What has followed in the wake of lockdowns and mandates has been the infusion of trillions of dollars into the US economy, the increasing succeess of online businesses like Amazon and other large online retailers, various bank and tech-related stocks, the shuttering of small to medium-sized businesses and the loss of millions of jobs.
Another result has been the increasing levels of inflation, especially those of food and fuel.
In official terms, for purposes of reporting, the US Labor Department uses what is called "core inflation".
Core inflation excludes items like food and fuel, as those are deemed too volatile.
economy news online news