world news headline news
By Daphne Rousseau
After 16 days of mobilising and massing near the Gaza Strip, an eerie calm lingers among Israeli troops as they await the highly anticipated invasion of the Hamas-controlled Palestinian territory. headline news
The parched desert floor is now filled with hundreds of armoured vehicles along with columns of tanks primed for the expected onslaught.
The mechanised steel is adorned with the blue and white Israeli flags, while soldiers labour away with the everyday maintenance of their vehicles.
This entire first line is protected by an immense trench, about two kilometres (more than a mile) long, that was dug by engineering units outfitted with heavy machinery.
Like most ground offensives, the combat engineering corps will lead the armoured formations when they enter Gaza — breaching defences and clearing mines and booby traps to pave the way for ground troops.
"Military engineering is essential. Without us, no one enters Gaza," explained a soldier serving with unit 601 of the military engineering corps, who spoke on condition of anonymity.
"There are a lot of obstacles. The enemy is spraying rockets and other things that I cannot detail to prevent us from progressing," he added.
Jammed
world news headline news
Israel's general staff said their troops are "ready" for a ground incursion, after more than two weeks of heavy bombardment of Gaza by Israeli warplanes and artillery that the Hamas-run health ministry says has killed more than 5,700 people.
The campaign follows the bloodiest day in Israel's 75-year history, when hundreds of Hamas fighters rampaged through communities across southern Israel, killing around 1,400 people and taking more than 200 others hostage, according to Israeli officials.
The decision to launch a ground invasion is now in the hands of the Israeli government, even as pressure builds from its allies over the shape and parameters of the operation.
As its forces wait to strike, Israel has jammed signals near the Gaza border, rendering navigation applications like Google Maps and Waze useless throughout the militarised zone that has been sealed off from civilian use.
AFP journalists on the ground noted that the attempts to pin their locations with the apps resulted in errant positions, including the airport near Tel Aviv or the Egyptian capital of Cairo.
To reach the sprawling Tze'elim base some 20 kilometres from Gaza, a steady traffic jam leads to the entrance of the largest military facility in the country's southern desert.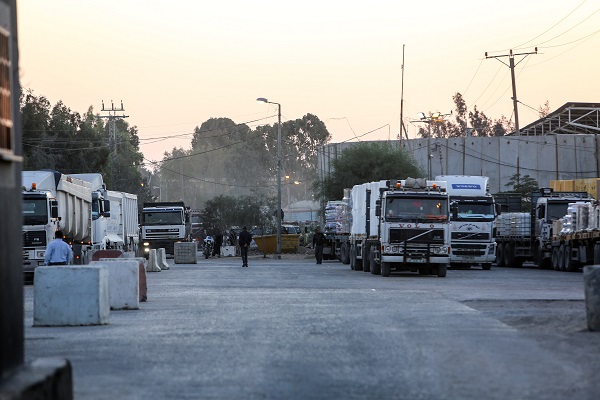 For kilometres (miles), tourist buses, family cars, tanks and army jeeps form an seemingly endless convoy en route to the base.
Tze'elim has long been renowned as one of the premier training grounds for urban combat, which includes life-size replicas of Gaza neighbourhoods, including a mosque and minarets.
world news headline news
The forces that have spent years honing their skills at the base will likely be instrumental in the expected ground campaign.
Israeli forces last entered Gaza on foot in 2014, allowing Hamas ample time since then to fortify and expand their defences, including a maze of tunnels snaking under the city.
In Tze'elim, "tens of thousands" are believed to be on hand in addition to the 169,500 Israeli soldiers already serving in active duty, while an estimated 360,000 reserves have been mobilised to assist in the fight.
"Many are already on the ground," explains a senior officer on condition of anonymity referring to the Gaza border.
The families of conscripts flock to the base to deliver meals or join their relatives on brief stints of leave, as they lounge on camping chairs lining the road to the base.
'We have to face this'
At the entrance to the facility, Omer, a 23-year-old artillery reservist, searches through the masses of troops hoping to find a friend who is taking him on 24-hour leave.
"I have been cut off from everything for 14 days — two weeks in the field, shooting day and night," explained the artilleryman, with a dirt-smeared face and an Indian necklace hanging from his neck.
Before the war, the gunner was a yoga teacher and had been studying in northern India when he received his marching orders.
Since then, Omer has been manning his battery during "impossible" nights filled with the repeated concussion of heavy artillery and clouds of dust kicked up by passing armoured vehicles.
"The worst thing is being in this shit and not even having time to grieve. I have two friends from Nova killed and a friend of a friend kidnapped," said the Israeli soldier, referring to the desert rave where around 270 people were gunned down by Hamas.
"When all this is over, we will also have to face this," he added.
"But right now, we don't have time."
dar/ng/ds/jd/dv
© Agence France-Presse
world news headline news