online news world news
The IMF said Friday a team will travel to Sri Lanka next week to resume aid talks that were interrupted amid the unrest that led to the resignation of the nation's president. world news
The island nation defaulted on its $51 billion foreign debt in April and is seeking help from the International Monetary Fund after months of food, fuel and medicine shortages.
Amid runaway inflation, the country's central bank warned Thursday that the economy could suffer a record contraction of more than eight percent this year with inflation peaking at 65 percent.
Staff from the Washington-based crisis lender plan to visit Colombo during August 24-31 "to continue discussions with the Sri Lankan authorities on economic and financial reforms and policies," the IMF said in a statement.
"The objective is to make progress towards reaching a staff-level agreement" on a funding package "in the near term," the IMF said.
online news world news
However, the country's public debt is "unsustainable," which means any IMF loan program "would require adequate assurances by Sri Lanka's creditors that debt sustainability will be restored."
Formal discussions on a new package for the cash-strapped nation began in June but were thrown off course by the political upheaval that forced now ex-president Gotabaya Rajapaksa to flee the country, amid dramatic scenes of protesters occupying the presidential palace.
Rajapaksa is accused of mismanaging the island nation's economy to a point where it has run out of foreign exchange to finance even the most essential imports, leading to severe hardships for its 22 million people, with four out of five Sri Lankans skipping meals.
hs/bfm
© Agence France-Presse. All rights are reserved.
Notes from APS Radio News
A number of observers have said that in less developed countries, like Sri Lanka, severe shortages of various commodities have occurred, in part, because of problems in balance of payments & low currency reserves. world news
In their turn, such countries accumulated fewer foreign exchange earnings because of disruptions to the world's economy.
Those disruptions occurred, in large part, because of lockdowns and restrictions that were imposed over the virus.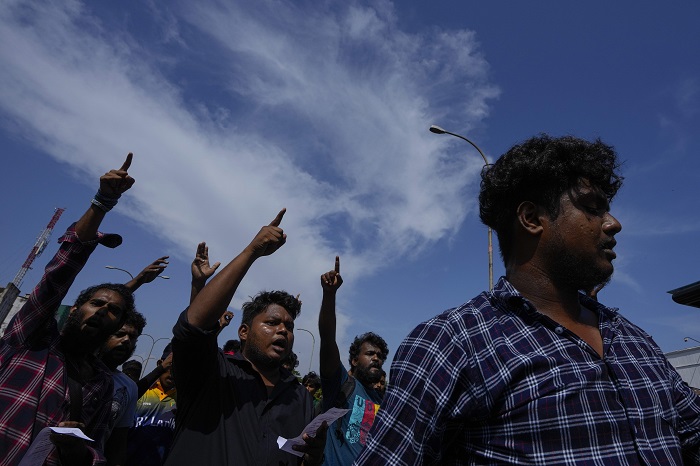 According to Statista, in the US, for example, the average mortality rate of the virus has been .07% and, for most age groups, it has had a recovery rate of 99%.
Whatever the virus was, whether something that was developed in a lab or whether it was a variety of the influenza virus, lockdowns and restrictions were imposed in many countries.
As a result of lockdowns, the developed world traded less with the less developed world.
Because of the problems that developed in Sri Lanka, for example, shortages of fuel and fertilizers, the IMF has reportedly come to the rescue, that is, in the form of loans.
Reportedly, too, Sri Lanka's President Ranil Wickremesinghe is seen as being amenable to the interests of the IMF; he appears to be anxious to accede to the IMF's requriements in order to be granted additional loans.
Not infrequently, the IMF imposes various conditions, in exchange for the granting of loans.
Condiitions often include austerity measures, such as reductions in price subsidies of commodities like fuel and staple foods.
Since earlier this year, it was common to find long lines at gas stations, as people waited in seemingly interminable lines.
Soon after he was appointed as the president, Wickremesinghe vowed to crack down on the 2022 anti-government protests. Wickremesinghe claimed the protestors to be "fascists".
Security forces raided the protest site in Galle Face Green in the early hours of 22 July, a day after Wickremesinghe's swearing-in. 50 protestors were injured and two were hospitalised.
BBC journalists were also attacked in the raid. Saliya Pieris, president of the Bar Association of Sri Lanka, criticised the raid. British High Commissioner to Sri Lanka, Sarah Hulton, also expressed concerns.
online news world news