headline news online news
Arab Gulf states Saturday warned Israel against further ground operations in the Gaza Strip, with Saudi Arabia denouncing land incursions as "unjustified" and Oman condemning possible "war crimes". online news
Israel unleashed a bombing campaign after Hamas gunmen stormed across the Gaza border on October 7 in raids that left 1,400 dead, according to official figures, and which spiralled into all-out war.
The Hamas-run health ministry in Gaza says Israeli strikes have killed 7,703 people including more than 3,500 children.
The Gulf warnings came after Israeli military spokesman Daniel Hagari said late Friday that the army was "extending" its ground operations after two straight nights of tank incursions, and as an Israeli minister said on Saturday the war with Hamas had "entered a new phase".
Saudi Arabia "condemns and denounces any ground operations carried out by Israel due to the threat they pose to the lives of Palestinian civilians", the kingdom's foreign ministry said in a statement.
It cautioned against "the danger of continuing to carry out these blatant and unjustified violations of international law against the brotherly Palestinian people", warning of "serious repercussions for the stability of the region".
world news online news
Qatar's Foreign Minister Mohammed bin Abdulrahman Al-Thani said on X, formerly Twitter, that an "Israeli ground escalation would have dire consequences for civilians and devastating humanitarian and economic impacts."
Israel's army relentlessly hammered the territory of 2.4 million inhabitants on Saturday after fierce overnight bombardments, one of the most intense since war broke out.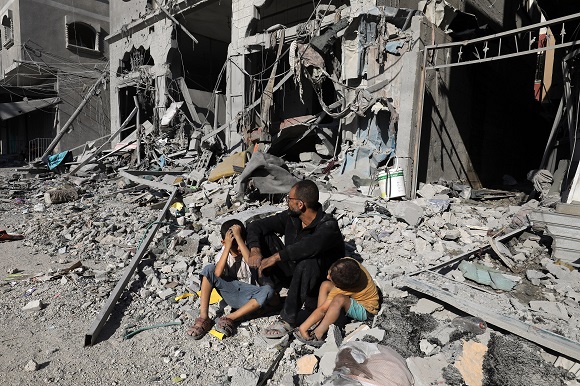 The latest Israeli strikes, which rescuers said had destroyed hundreds of buildings across the narrow Palestinian territory, coincided with ground operations targeting Hamas, the Islamist group that has ruled Gaza since 2007.
According to Israeli officials, Palestinian militants on October 7 seized more than 220 hostages who are now believed to be held in Gaza.
Oman on Saturday accused Israel of committing "war crimes" in Gaza and warned against any further ground manuevers.
The escalation in Israel's "brutal war on the Gaza Strip constitutes war crimes and crimes against humanity," said a foreign ministry statement carried by the official Oman News Agency.
Oman too warned of the destabilising effects of a large-scale land invasion, while Qatar said "a ground escalation" would risk "the safety of civilians and hostages in Gaza".
A Qatari foreign ministry statement expressed "complete rejection of the indiscriminate bombing of the Gaza Strip and the attempts to forcibly displace its people".
Qatar's top diplomat said "mediation efforts to release civilian hostages" and to "end the war" were ongoing.
Kuwait charged that "any ground invasion of Gaza… will prove that the Israeli occupation is determined to continue committing crimes against the brotherly Palestinian people", according to a foreign ministry statement.
The six-member Gulf Cooperation Council condemned the military escalation in Gaza as a "violation of international law," urging an immediate end to hostilities.
ht-ho/ami
© Agence France-Presse
world news online news