world news online news
Representatives from Israel and Arab countries exchanged sharp accusations Thursday at the UN General Assembly, as the body discussed the Israel-Hamas war following the Security Council's failure to take action. online news
The matter has exposed deep divisions in the Security Council, with a total of four resolutions gaining insufficient traction or being blocked by a veto in less than two weeks.
Arab countries are hoping that the General Assembly, which has a different power balance and where no country holds a veto, will be able to act, even if any resolution would be nonbinding.
But the back-and-forth Thursday remained in attack mode, with Jordanian Foreign Minister Ayman Safadi, who spoke on behalf of 22 Arab countries, accusing Israel of "making Gaza a perpetual hell on Earth."
"The trauma will haunt generations to come," he said, adding that "the right to self defense is not a license to kill with impunity. Collective punishment is not self defense, it is a war crime."
Israel's relentless bombardment was launched on October 7 in retaliation for the Hamas attack which Israeli officials say killed 1,400 people. More than 200 others were kidnapped.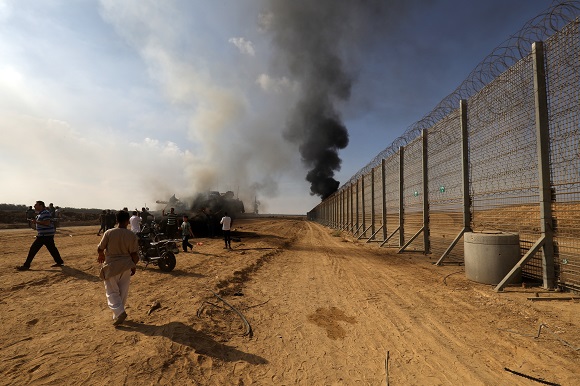 The strikes, according to Gaza's Hamas-run health ministry, have killed more than 7,000 people — a toll expected to rise substantially if Israeli troops massed near the border move into the Palestinian territory.
"To stop this madness, you have a chance to do something, to give an important signal. Choose justice, not vengeance," said Palestinian Ambassador to the UN Riyad Mansour.
Jordan has circulated a draft resolution that is still under discussion, which is meant to be put to vote on Friday.
The text focuses largely on the humanitarian situation, calling for an "immediate ceasefire" and "unhindered humanitarian access" to the Gaza Strip.
It also calls on all parties to comply with the "protection of civilians," but makes no mention of the Hamas attack.
Israeli UN Ambassador Gilad Erdan blasted the text.
"The drafters of the resolution claim to be concerned about peace," he said. "Yet the depraved murderers who initiated this war are not even mentioned in the resolution."
"The only place this resolution belongs is in the dustbin of history," he added.
abd/bfm/tjj
© Agence France-Presse
world news online news