Online News World News
Russia's defence minister, Sergei Shoigu says Moscow's forces have taken the strategic Ukrainian city of Lysychansk and now control the entire region of Lugansk, which has been the target of fierce battles in recent weeks.
"Sergei Shoigu has informed the commander-in-chief of the Russian armed forces, Vladimir Putin, of the liberation of the People's Republic of Lugansk," the defence ministry said in a statement quoted by Russian news agencies.
The regional governor of Lugansk, Sergiy Gaiday, says on Telegram that "the Russians are reinforcing their positions in the Lysychansk region. The city is on fire."
Kyiv has yet to comment on the claim that Lysychansk has fallen following days of intense clashes.
'Six killed in Russian shelling' –
Shelling from multiple rocket launchers kills six people, including a child in Ukraine's eastern city of Sloviansk, which has come under attack from advancing Russian troops, its mayor says.
"Provisional toll from today's shelling: six dead, 15 injured. Among the dead, there is a child," Vadim Lyakh says on Facebook, confirming a toll given by a spokeswoman for the Donetsk region to Ukrainian media.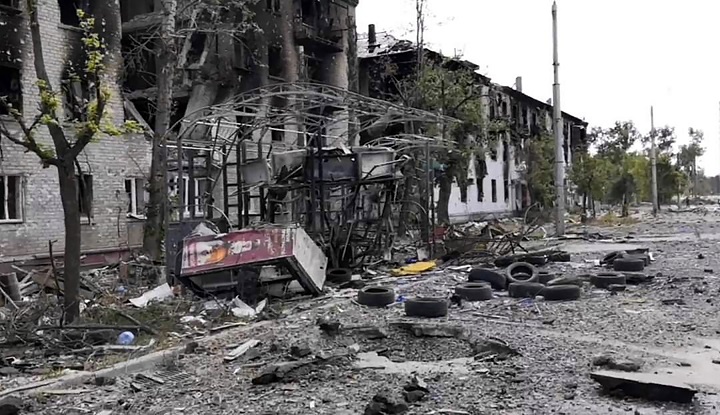 Tetyana Ignachenko, a spokeswoman for the Donetsk region to which Sloviansk belongs, reiterates a call on residents to leave the region, as the frontline is just a few kilometres (miles) away.
Russia says Ukraine fired missiles –
Russia accuses Kyiv of firing three missiles at the city of Belgorod near the Ukraine border in strikes that killed at least three people.
"Russian anti-aircraft defences shot down three Tochka-U cluster missiles launched by Ukrainian nationalists against Belgorod," says Russia's defence ministry spokesman, Igor Konashenkov.
Lukashenko too blames Ukraine for missiles –
Belarusian President Alexander Lukashenko says his army shot down missiles fired into their territory from Ukraine and vows to respond "instantly" to any enemy strike.
"We are being provoked," Lukashenko is quoted as saying by state news agency Belta. "I must tell you that around three days ago, maybe more, they tried to strike military targets in Belarus from Ukraine.
Ukraine last week said missiles fired from Belarus had struck a border region inside its territory.
'Phosphorus bombs on Snake Island' –
Ukraine's army accuses Russia of carrying out strikes using incendiary phosphorus munitions on Snake Island, just a day after Moscow withdrew its forces from the rocky outcrop in the Black Sea.
"Russian air force SU-30 planes twice conducted strikes with phosphorus bombs on Zmiinyi island," it says in a statement Friday, using another name for Snake Island.
The Russian defence ministry has described the retreat as "a gesture of goodwill" meant to demonstrate that Moscow will not interfere with UN efforts to organise protected grain exports from Ukraine.
Deadly strike on Odessa –
Missile strikes kill 21 people and wound dozens in Ukraine's flashpoint Odessa region on the Black Sea, says Sergiy Bratchuk, Odessa deputy chief of district.
The strikes come a day after Russian troops abandoned positions on Snake Island which is off the coast of Odessa.
Early Friday, missiles hit a nine-storey apartment building and a recreation centre in Serhiivka about 80 kilometres (50 miles) south of Odessa.
Two children were among the dead and six others among the injured, officials say.
Germany condemns the attack as "inhuman and cynical".
Russia 'engaging in terror': Zelensky –
Ukraine's president Volodymyr Zelensky accuses Russia of engaging in state "terror" as he blames Moscow for missile strikes on a southern resort town that left 21 dead and dozens wounded.
burs-jhe/har
© Agence France-Presse. All rights are reserved.