headline news online news
The United States will announce $3 billion in fresh military aid to Kyiv on Wednesday as Ukraine marks its independence day as well as the six-month anniversary of the Russian invasion. online news
A US official confirmed the planned White House announcement even as Washington warned that Moscow could be planning a surge in strikes on major civilian targets coinciding with the independence day observations, and as Ukrainian President Volodymyr Zelensky urged citizens to be on guard against "Russian terror."
The new tranche of American funding will help Kyiv acquire more weaponry, ammunition and other supplies for its armed forces, locked in a grinding war of attrition with Russian troops in the east and south with neither side advancing significantly in weeks.
In Moscow, the Kremlin warned it would show "no mercy" over the assassination of Daria Dugina, the daughter of an ultranationalist intellectual allied with President Vladimir Putin, which it blamed on Ukraine.
Kyiv has denied responsibility for the Saturday bombing, which apparently targeted Dugina's father Alexander Dugin.
Russian Foreign Minister Sergei Lavrov said the investigation into the attack would be completed soon.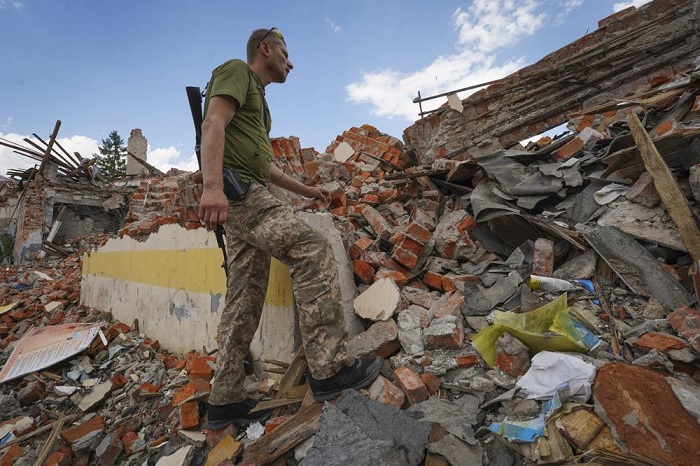 "According to the results of this investigation, there can be no mercy for those who organised, ordered and carried out" the car bombing, he said.
The expected US aid announcement comes as world leaders reasserted their support for Kyiv.
British Prime Minister Boris Johnson and German Chancellor Olaf Scholz on Tuesday warned Russia against further attempts to annex Ukrainian territory in the same way it did with Crimea.
"It has never been more important for us all to stand together," Johnson said in a video address to the Crimea Platform conference in Kyiv.
Polish President Andrzej Duda advised against any "appeasement," saying: "There is no return to business as usual in relations with Russia."
headline news online news
And French President Emmanuel Macron vowed that European Union support for Ukraine would continue "for the long term".
"There can be no weakness, no spirit of compromise, because it is a matter of our freedom, for everyone, and of peace everywhere around the world," he said.
Tensions grew in the Ukraine capital as both Zelensky and the US State Department warned that Russia could step up attacks around the holiday.
The celebrations are muted this year and large gatherings have been banned in Kyiv.
Ukrainians were somber about the looming anniversary after a half-year of death and destruction.
"Six months, the peace of life has been broken in every family," Nina Mikhailovna, an 80-year-old pensioner, said at Independence Square in central Kyiv.
"How much destruction, how many dead, how can we relate to it?" she asked.
Kyiv's city administration said it would close public service centers on Wednesday and Thursday, and shopping malls here said they would close for the anniversary for safety concerns.
"Tomorrow is an important day for all of us. And that is why this day, unfortunately, is also important for our enemy," Zelensky said in an address Tuesday evening.
"We must be aware that tomorrow disgusting Russian provocations and brutal strikes are possible," he said.
Threatened nuclear plant –
Meanwhile discussions continued on how to protect the Zaporizhzhia nuclear plant in southern Ukraine, occupied by Russian troops and threatened by shelling, which Moscow blames on Kyiv.
The two sides traded accusations at a Tuesday meeting of the UN Security Council on Zaporizhzhia, with Ukraine and its allies demanding Russia pull its troops out of the plant — Europe's largest nuclear facility — and agree to a demilitarized zone.
Lavrov spoke Tuesday by telephone to French Foreign Minister Catherine Colonna about an expected visit to the plant by inspectors from UN nuclear watchdog the International Atomic Energy Agency, amid worries over the high risk of a radiation accident.
IAEA head Rafael Grossi issued a statement Tuesday deploring weekend shelling at the site, saying further damage had been caused.
"I'm continuing to consult very actively and intensively with all parties so that this vital IAEA mission can take place without further delay," he said.
It would "help stabilise the nuclear safety and security situation at the site and reduce the risk of a severe nuclear accident in Europe."
bur-pmh/mlm
© Agence France-Presse. All rights are reserved.
headline news online news
Notes from APS Radio News
From the time the war commenced in February, the US has given $50 billion in military and related aid.
headline news online news
Hell Hath No Fury Like a Hegemon Scorned
By Stephen Karganovic
It is a good thing indeed that no close relatives of Ivan Ilyin are on record as surviving, otherwise they also would undoubtedly be targeted today for systematic elimination, Stephen Karganovic writes.
It is a good thing indeed that no close relatives of Ivan Ilyin are on record as surviving, otherwise they also would undoubtedly be targeted today for systematic elimination, one by one, in car bomb "accidents" and other similar terrorist acts.
Such seems to be the destiny of intellectuals (and even members of their families) from whom Russia's leaders are rumoured to draw their inspiration. The assassination of Stolypin in Kiev over a century ago was an early illustration of how that works.
The appalling murder near Moscow a few days ago of Daria Dugina, daughter of the illustrious Russian philosopher and geostrategic thinker Alexander Dugin, ironically occurred precisely as the imbecilic solons of her country's main geopolitical rival were contemplating legislation to designate Russia as a state "sponsor of terrorism." It is, of course, for investigators to establish with certitude the identity of the crime's perpetrators as well as their ultimate goals, but whether the criminals are situated in Kiev or elsewhere, tentatively at least the outrageous initiative of the moronic superpower legislators remains a classic example of Freudian projection, the mental process by which people attribute to others what is in fact in their own minds.
The barbarism of the terrorist act which extinguished the life and charred the body of an innocent and talented young woman and a public figure in her own right, who was never associated with advocacy of violence against anyone, is abhorrent beyond description. Her "guilt", if any, must have existed solely in the minds of her psychopathic assassins, and it could only have been by association with her father, Alexander Dugin, whose general views she articulately espoused. However, being just a philosopher, and obviously neither politician nor soldier, though the hit may actually have been aimed at him, in the penal and moral sense Dugin is just as blameless as his unfortunate daughter.
But engaging in such meticulous rationalistic analyses is quite useless in this particular case because of the peculiar circumstances in which this outrage was conceived and perpetrated. It has been well said that "hell hath no fury" like (to slightly paraphrase) a hegemon scorned. Both Alexander Dugin and his progeny, personified by daughter Daria, have in that sense been notorious scorners, and for the boldness and intellectual defiance they consistently displayed they have now been made to pay a terrible price to the deservedly scorned.
It is irrelevant whether the murderers were direct agents of the pathetic puppet regime in Kiev, or trained operatives sent by its foreign sponsors, issuing instructions from beyond the regime's shrinking borders. It is also of little consequence who was the intended victim, the father or the daughter, because symbolically either would have served the organisers' malevolent purposes, though arguably a successful hit on A. Dugin would have been preferred for greater reverberation. The main point to remember, however, is that shifting the battlefield from contending armies to targeted non-military individuals, as has now apparently been done, visibly adds a new and complex dimension to this conflict. It foreshadows a no-hold-barred assault by the furious barbarians not only on Russia's intellectuals but more broadly its innocent civilians, very likely soon also targeting vindictively the civilian infrastructure.
Regardless, as things currently stand this wicked murder is likely to inflame the Russian public to an extreme degree, provoking demands for a forceful retaliatory reaction. A hasty and in particular indiscriminate reaction of that sort would however be a grave miscalculation. The Russian and Ukrainian people will again converge and they have nothing to gain, and much to lose, from the exacerbation of the artificially concocted conflict. It is therefore imperative, firstly, that a thorough and credible investigation of the crime be completed, its results published, and culprits named. Secondly, the foundational documents of the upcoming international war crimes tribunal must be shaped wisely and flexibly, to mirror where possible mechanisms already conveniently established but shamefully misused by Western-sponsored outfits such as the Hague Tribunal and the ICC. The objective should be to facilitate the creation of a legal dragnet capable of being cast as widely as possible to apprehend not just foot-soldiers and direct hitmen but also authors and ideologues of the criminal orders, no matter how remote, as well as all participants and inciters in the Ukrainian joint criminal enterprise, whoever and wherever they might be.
Only thus could justice be modestly served in the wake of this hideous assassination which was clearly designed to enhance a conflict that should have been confined to armed militaries by elevating it to a higher level of inhumanity, making it nothing less than a terroristic reconfiguration of Goebbels' desperate concept of "total war" promulgated when the defeat of Nazi Germany had become a certainty. The good guys must put the bad guys, in Kiev and beyond, on notice that the sheriff will methodically identify and hunt them down using effective legal instruments, whoever and wherever they are, regardless of high office or geographical distance that they hope might shield them from criminal responsibility.
headline news online news