Economy Online News
American factory growth sped up in May after slowing in the prior two months, even as employment contracted and firms continue to face supply challenges, according to a business survey released Wednesday. Online News
The Institute for Supply Management said its manufacturing index rose to 56.1 percent from 55.4 percent in April, beating expectations and staying above the 50-percent threshold indicating expansion for the 24th consecutive month.
Prices showed signs of easing, but employment entered contraction territory, falling 1.3 points to 49.6 percent, the report said.
"The US manufacturing sector remains in a demand-driven, supply chain-constrained environment," ISM manufacturing survey chair Timothy Fiore said.
"Sentiment remained strongly optimistic regarding demand."
However, he said, 10 percent of firms surveyed said they continue to have difficulty getting material from Asian suppliers.
"Overseas partners' disruptions are beginning to impact US manufacturing, creating a near-term headwind for factory output growth," he said.
The Covid-19 lockdowns in China have been exacerbating shortages experienced in recent months of the pandemic, fueling the global inflation surge.
However, the ISM survey showed the prices index fell for the second straight month to a still-high 82.2 percent in a sign pressures may be easing. The index has been above 70 percent in 17 of the past 18 months.
Economy Online News
But Fiore cautioned that "instability in global energy markets continues."
Comments from survey respondents reflected signs of optimism.
"Suppliers are seeing a light at the end of the tunnel for restoration of (semiconductor) component supply," one Computer & Electronic Products executive said.
Oren Klachkin of Oxford Economics flagged the positive signals in the report but said even though China is loosening lockdowns, supply issues will persist.
"Supply-chain conditions will remain highly strained and are unlikely to return to pre-Covid norms any time soon," he said.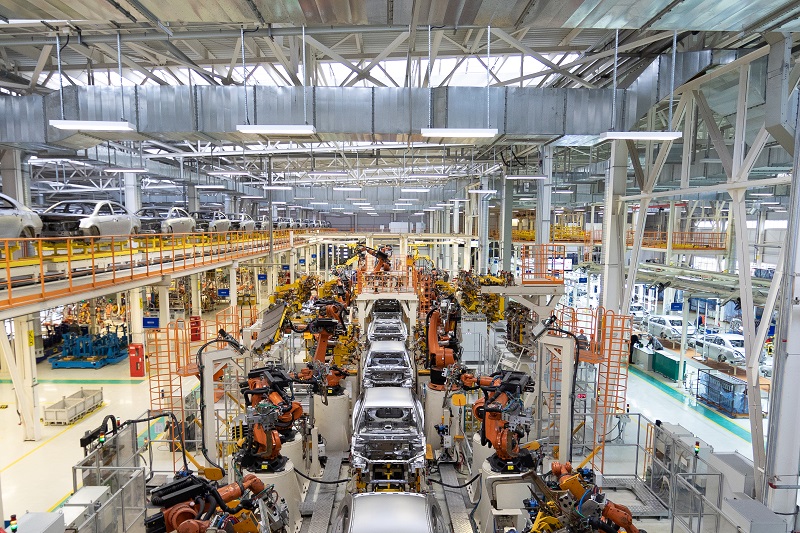 "Growth in the manufacturing sector will moderate, but a mix of still-healthy goods spending and plenty of backlogs will keep factory output rising in the second half of 2022."
hs/to
© Agence France-Presse. All rights are reserved.
Online News Economy
Notes from APS Radio News
Although many media services and outlets emphasize the war in Ukraine as being the proximate and primary cause of higher rates of inflation, in fact, lockdowns and expansive monetary policy exacerbated inflation that was happening well before Russia's invasion of Ukraine.
Still, embargoes against Russia's exports of oil and wheat, and, in its turn, Russia's embargoes and blockades against Ukraine wheat are variables that have reduced the supplies of those commodities.
Between Russia and Ukraine, those countries account for about one third of the world's supplies of wheat.
During the past few years, a number of the world's central banks have engaged in massive programs of monetary expansion, even as jobs and businesses were lost by way of virus-related restrictions and quarantines.
For example, beginning in March of 2020, the US Federal Reserve engaged in a substantially greater program of monetary expansion by purchasing hundreds of billions of
dollars of Treasury and corporate bonds.
Since the early part of March 2020 to date, the Federal Reserve has added over $4 trillion to its holdings.
In particular, whereas on or about February 24, 2020, the holdings of the Federal Reserve stood at $4.2 trillion, on or about January 17, 2022, the holdings of the Federal
Reserve stood at about $8.9 trillion.
As well, the Federal Reserve has kept interest rates low.
Recently, Jerome Powell, the head of the Federal Reserve, said that he wasn't concerned about inflation and that, for the none, the Federal Reserve would keep interest rates at low levels.
Another examples is that of the Bank of Japan.
According to Fred Economic Data, as of October 2021, the Bank of Japan's holdings were about $6.4 trillion or about 725 trillion Yen.
In the early part of March 2020, the Bank of Japan's holdings were $5.3 holdings. During the period mentioned, the Bank of Japan added over one trillion dollars to its holdings.
A number of corporations have been borrowing money inexpensively and have been purchasing their own shares of stocks, increasing share prices of stocks.
Still, there are concerns among investors.
A number of them have expressed concerns about central banks' eventually increasing interest rates, as, during the past year, inflation levels have been increasing.
The combination of low interest rates, expansive monetary policies, fiscal stimulus programs, which themselves have infused trillions into the US economy, and shortages of
goods and services caused by virus-related restrictions and lockdowns has increased levels of inflation.
Investors also have worried, for example, about announcements that were made by companies like Toyota and VW; months ago, those companies announced that because of
shortages of particular types of material, they would be reducing levels of production.
Months ago, the results of a survey of UK manufacturers were released.
That survey indicated that many businesses in the UK were concerned about shortages of supplies.
Online News Economy