News Online World News
Five civilians are killed and 12 injured in a Ukrainian bombardment of the eastern separatist city of Donetsk, local authorities say. News Online
Donetsk is the de facto capital of the self-proclaimed Donetsk republic, in the Donbas coal region located in eastern Ukraine.
Partially controlled by pro-Russian separatists since 2014, the region has been the subject of fierce fighting between Ukrainian and Russian forces who launched an offensive in Ukraine on February 24.
"From this morning, massive enemy bombardments are targeting the capital of the republic," pro-Russian forces say in a statement, adding that more than 200 artillery shells of 155 mm calibre fell on several districts of Donetsk on Saturday.
'Fierce battles' outside Severodonetsk –
The worst of the fighting continues to be in the eastern Donbas region, with battles raging in villages outside the city of Severodonetsk, which Russia has been trying to seize for weeks.
"Now the most fierce battles are near Severodonetsk. They (Russia) do not control the city entirely," the governor of the eastern Lugansk region, Sergiy Gaiday, says on Telegram.
Gaiday says there is "more destruction" at the besieged Azot chemical plant in Severodonetsk, where he says 568 people are sheltering, including 38 children.
He also says Lysychansk — a Ukrainian-controlled city across a river from battered Severodonetsk — is being "heavily shelled".
Lysychansk residents were preparing to be evacuated.
Zelensky visits southern Ukraine front –
Ukrainian President Volodymyr Zelensky visits the war-damaged southern city of Mykolaiv for the first time since the Russian invasion in a rare trip outside Kyiv.
Zelensky's office publishes a video of him looking at a badly damaged high-rise residential building in the city and holding a meeting with local officials.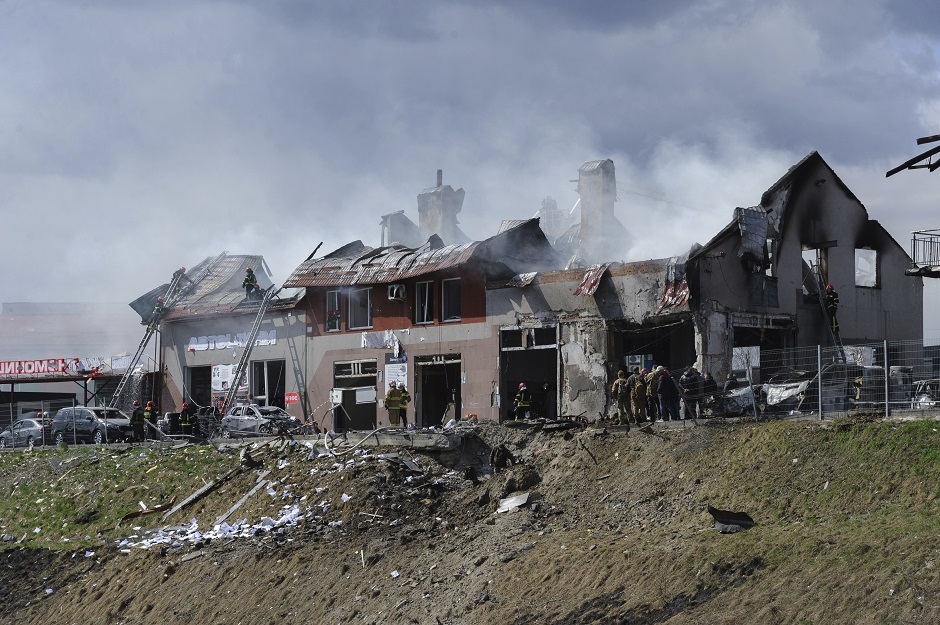 His visit comes a day after a Russian strike killed two people and injured 20 in the city.
Mykolaiv has been targeted by Russian forces since the start of their invasion on February 24.
News Online World News
He later also visits troops on the southern frontline in the Mykolaiv region, his office says in a statement.
Russia putting world in danger of famine, warns EU –
Russia is putting the world at risk of famine through its blockade of Ukraine's shipments of grains and restrictions on its own exports, EU foreign policy chief Josep Borrell says.
The threat to food security and a "battle of narrative" with Russia on Western-imposed sanctions on Moscow over Ukraine will dominate European Union foreign ministers' talks in Luxembourg on Monday.
"We are ready to work with the UN and our partners to prevent any unwanted impact on global food security," Borrell says in an article published on his official blog.
"Russia's conscious political choice is to 'weaponise'" grain exports and "use them as a tool for blackmail against anyone that opposes its aggression" in Ukraine, Borrell says.
Germany probing several hundred possible Ukraine war crimes –
German police say they are investigating several hundred potential Russian war crimes in Ukraine including political and military officials suspected of being linked to the alleged offences.
"Up until now we have received a three-digit number of leads," Holger Muench, head of the BKA federal police, tells the Welt am Sonntag newspaper.
The inquiry does not only cover suspected perpetrators of war crimes but also political and military officials, he says.
"Our clear goal is to identify those responsible for atrocities, to prove their actions through our investigations and bring them to justice," including in Germany.
The country applies universal jurisdiction, which allows a foreign country to prosecute crimes against humanity, war crimes and genocide, regardless of where they were committed.
burs-po/gw
© Agence France-Presse. All rights are reserved.
World News News Online