World News Headline News
Colombo, Sri Lanka
Cash-strapped Sri Lanka saw its highest inflation on record for the eighth consecutive month in May, official data showed Wednesday, as the island nation grapples with its worst-ever economic crisis. Headline News
The Colombo Consumer Price Index (CCPI) rose 39.1 percent year-on-year last month, up from 29.8 percent in April, according to the statistics department.
Food inflation in Colombo came in at 57.4 percent, up from 46.6 percent in April.
The price increases in May were yet to fully capture the sharp increases in fuel, one of the many vital commodities in scarce supply across the country.
Private economists say consumer prices are rising even faster than official records show, with one John Hopkins University analyst tracking March inflation at 133 percent — more than six times the official figure.
Sri Lanka's import-dependent economy has been hammered by a critical foreign currency shortage, leading to months of acute shortages of food, medicines and other essentials.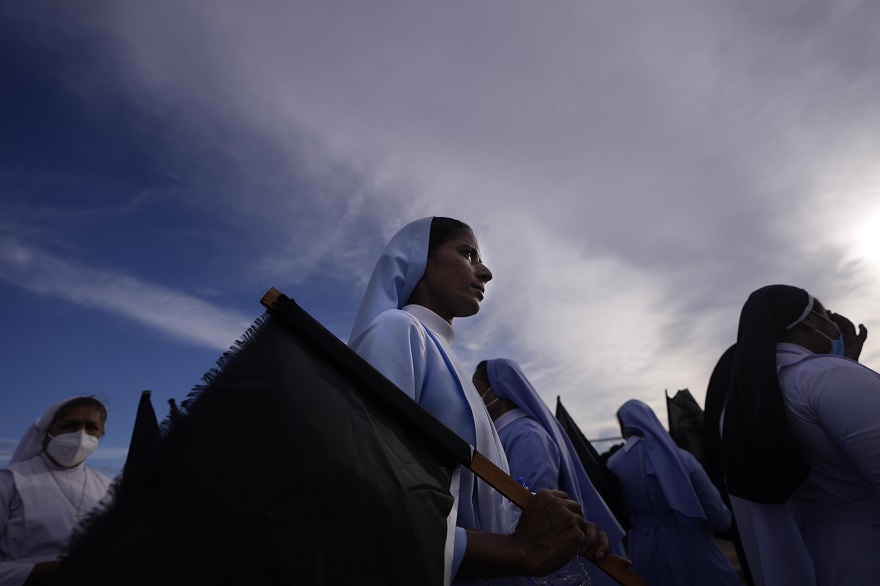 Faced with a huge cash crunch, the government on Tuesday raised taxes across the board by rolling back cuts ordered by President Gotabaya Rajapaksa in November 2019.
Weeks of protests outside the president's seafront office have demanded his resignation over government mismanagement of the crisis.
Sri Lanka has defaulted on its $51 billion foreign debt and is seeking international aid to revive its bankrupt economy, including from the International Monetary Fund.
aj/gle/dan
© Agence France-Presse. All rights are reserved.
Headline News World News
Notes from APS Radio News
During the past few years, a number of the world's central banks have engaged in massive programs of monetary expansion, even as jobs and businesses were lost by way of virus-related restrictions and quarantines.
For example, beginning in March of 2020, the US Federal Reserve engaged in a substantially greater program of monetary expansion by purchasing hundreds of billions of dollars of Treasury and corporate bonds.
Since the early part of March 2020 to date, the Federal Reserve has added over $4 trillion to its holdings.
In particular, whereas on or about February 24, 2020, the holdings of the Federal Reserve stood at $4.2 trillion, on or about January 17, 2022, the holdings of the Federal Reserve stood at about $8.9 trillion.
As well, the Federal Reserve has kept interest rates low.
Recently, Jerome Powell, the head of the Federal Reserve, said that he wasn't concerned about inflation and that, for the none, the Federal Reserve would keep interest rates at low levels.
Another examples is that of the Bank of Japan.
According to Fred Economic Data, as of October 2021, the Bank of Japan's holdings were about $6.4 trillion or about 725 trillion Yen.
In the early part of March 2020, the Bank of Japan's holdings were $5.3 holdings. During the period mentioned, the Bank of Japan added over one trillion dollars to its holdings
World News Headline News
A number of corporations have been borrowing money inexpensively and have been purchasing their own shares of stocks, increasing share prices of stocks.
Still, there are concerns among investors.
A number of them have expressed concerns about central banks' eventually increasing interest rates, as, during the past year, inflation levels have been increasing.
The combination of low interest rates, expansive monetary policies, fiscal stimulus programs, which themselves have infused trillions into the US economy, and shortages of
goods and services caused by virus-related restrictions and lockdowns has increased levels of inflation.
Investors also have worried, for example, about announcements that were made by companies like Toyota and VW; months ago, those companies announced that because of shortages of particular types of material, they would be reducing levels of production.
Months ago, the results of a survey of UK manufacturers were released.
That survey indicated that many businesses in the UK were concerned about shortages of supplies.
In general, jobs and businesses have been lost by way of mandates, restrictions and quarantines, which, in their turn, were imposed by way of the virus narrative.
In the US, overall, the mortality rate of the virus is about .069%, according to Statista, an award-winning service.
The recovery rate is over 99% for most age groups.
What has followed in the wake of lockdowns and mandates has been the infusion of trillions of dollars into the US economy, the increasing succeess of online businesses like Amazon and other large online retailers, various bank and tech-related stocks, the shuttering of small to medium-sized businesses and the loss of millions of jobs.
Another result has been the increasing levels of inflation, especially those of food and fuel.
In official terms, for purposes of reporting, the US Labor Department uses what is called "core inflation".
Core inflation excludes items like food and fuel, as those are deemed too volatile.
While many elements of the media are wont to blame the war in Ukraine for shortages and higher rates of inflation, lockdowns and quarantines as well as expansive monetary policies were important variables contributing to price increases and shortages, even as the war has added to the list of causes.
World News Headline News