Online News World News
Spain's parliament approved Thursday the leftist government's anti-inflation measures despite the no votes from Catalan separatist in protest at the alleged spying of some of its members. Online News
With a narrow 176-172 vote, Socialist Prime Minister Pedro Sanchez secured the passage of a package of around six billion euros ($6.3 billion) in aid to cushion the double impact of soaring inflation and Russia's invasion of Ukraine.
Basque separatist party EH Bildu voted in favour, which made up for the loss of support from Sanchez's usual allies in parliament, Catalan separatist party ERC.
"The general interest has prevailed in the face of the politicking of some who put their partisan interests before the common good," the premier said after the vote.
He had postponed planned trips to Moldova on Thursday and Poland on Friday to remain in Spain in the face of doubts that parliament would approve the measures.
They include a reduction of 20 cents per litre of fuel which will be in place until the end of June and a 15 percent increase in the income support given to help the most vulnerable.
Online News World News
Ties between the ERC and the government have been strained since Canada's Citizen Lab group said last week that over 60 people linked to the Catalan separatist movement had been targets of Pegasus spyware after a failed independence bid in 2017.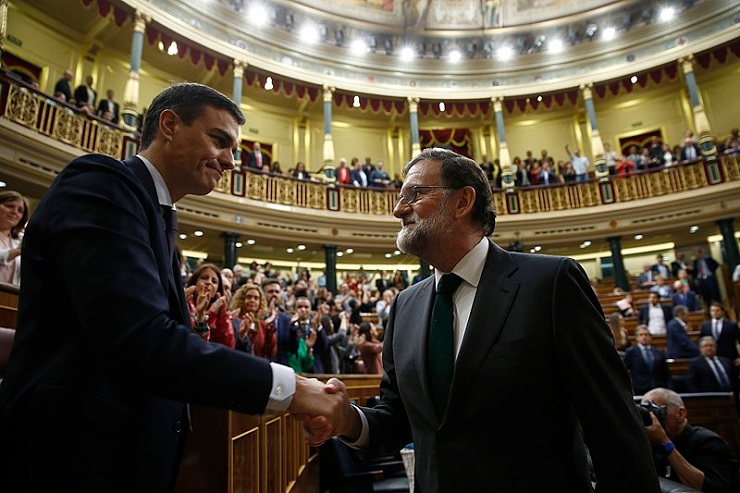 Among those allegedly targeted was current Catalan leader Pere Aragones who belongs to the ERC and several of his predecessors.
Pegasus silently infiltrates mobile phones to extract data or activate a camera or microphone to spy on their owners.
Catalan separatists have accused Spain's intelligence services of being behind the spying, and charged the Sanchez government has not assumed responsibility for the affair.
The government has neither confirmed nor denied whether it uses Pegasus or similar spyware, saying only that any surveillance was carried out under the supervision of judges.
The government said Sunday it would launch inquiries into the affair.
Catalonia, in northeast Spain, has been for several years at the centre of a political crisis between separatists, who control the executive and the regional parliament, and the central government in Madrid.
Tensions had eased since dialogue began between Sanchez's government and the regional authorities in 2020 and the granting of pardons to nine pro-independence leaders last year.
al-mg/ds/lth
© Agence France-Presse. All rights are reserved.
Online News World News
Notes from APS Radio News
During the past few years, a number of the world's central banks have engaged in massive programs of monetary expansion, even as jobs and businesses were lost by way of virus-related restrictions and quarantines.
For example, beginning in March of 2020, the US Federal Reserve engaged in a substantially greater program of monetary expansion by purchasing hundreds of billions of dollars of Treasury and corporate bonds.
Since the early part of March 2020 to date, the Federal Reserve has added over $4 trillion to its holdings.
In particular, whereas on or about February 24, 2020, the holdings of the Federal Reserve stood at $4.2 trillion, on or about January 17, 2022, the holdings of the Federal Reserve stood at about $8.9 trillion.
As well, the Federal Reserve has kept interest rates low.
Recently, Jerome Powell, the head of the Federal Reserve, said that he wasn't concerned about inflation and that, for the none, the Federal Reserve would keep interest rates at low levels.
Another examples is that of the Bank of Japan.
Online News World News
According to Fred Economic Data, as of October 2021, the Bank of Japan's holdings were about $6.4 trillion or about 725 trillion Yen.
In the early part of March 2020, the Bank of Japan's holdings were $5.3 holdings. During the period mentioned, the Bank of Japan added over one trillion dollars to its holdings.
A number of corporations have been borrowing money inexpensively and have been purchasing their own shares of stocks, increasing share prices of stocks.
Still, there are concerns among investors.
A number of them have expressed concerns about central banks' eventually increasing interest rates, as, during the past year, inflation levels have been increasing.
The combination of low interest rates, expansive monetary policies, fiscal stimulus programs, which themselves have infused trillions into the US economy, and shortages of goods and services caused by virus-related restrictions and lockdowns has increased levels of inflation.
Investors also worry, for example, about announcements recently made by Toyota and VW; those companies have announced that because of shortages of particular types of material, they will be reducing levels of production.
Some weeks ago, the results of a survey of UK manufacturers were released.
That survey indicated that many businesses in the UK are concerned about shortages of supplies and will be making necessary adjustments.
In general, jobs and businesses have been lost by way of mandates, restrictions and quarantines, which, in their turn, were imposed by way of the virus narrative.
In the US, overall, the mortality rate of the virus is about .069%, according to Statista, an award-winning service.
The recovery rate is over 99% for most age groups.
What has followed in the wake of lockdowns and mandates has been the infusion of trillions of dollars into the US economy, the increasing succeess of online businesses like Amazon and other large online retailers, various bank and tech-related stocks, the shuttering of small to medium-sized businesses and the loss of millions of jobs.
Another result has been the increasing levels of inflation, especially those of food and fuel.
In official terms, for purposes of reporting, the US Labor Department uses what is called "core inflation".
Core inflation excludes items like food and fuel, as those are deemed too volatile.
World News Online News