bulletin news world news
By Galit Altstein
(TNS) After weeks of failed negotiations the government of Prime Minister Benjamin Netanyahu on Sunday reintroduced legislation to reduce the power of Israel's courts. world news
The latest effort doesn't seek the kind of major overhaul the government tried before, one that lead to months of furious street protests and a threat to the economy, but it may be the first of a series and could once again trigger unrest.
The proposal seeks to chip away at a single doctrine which critics have long considered vague, permitting judges to dismiss an appointment or decision if it's deemed "unreasonable." Israeli courts have used the reasonableness doctrine to bar convicted criminals from serving as ministers, and to stop government regulations.
The bill introduced into Parliament on Sunday, which will require debate and three votes, removes that power. Netanyahu's right-wing government came into office six months ago vowing to rein in the judiciary, which it accuses of being a bastion of political liberalism.
The opposition said it would oppose the bill, although Netanyahu appears to have the votes to pass it.
"This is a law for whitewashing corruption," said Benny Gantz, an opposition head, who accused the coalition of starting a new overhaul strategy in a piecemeal fashion. "It's a law that removes limits from the government."
Gantz and fellow opposition leader Yair Lapid withdrew from talks with the government over disagreement on the makeup and power of a committee that picks judges. They worry that the government aims to remove a key check on its power, permitting it to ram through laws.
bulletin news world news
The reasonableness doctrine has been in the Israeli legal system since before the state declared independence in 1948, and was anchored in a quasi-constitutional basic law four decades ago.
In a 12-page opinion submitted to Parliament, the judicial committee's legal adviser acknowledged the vagueness but said reasonableness has protected individual rights. He called for some restrictions on reasonableness but not its elimination.
While the bill was being debated in the Knesset in Jerusalem, Netanyahu's own corruption trial resumed across town. Arnon Milchan, businessman and veteran Hollywood film producer, testified via video from England.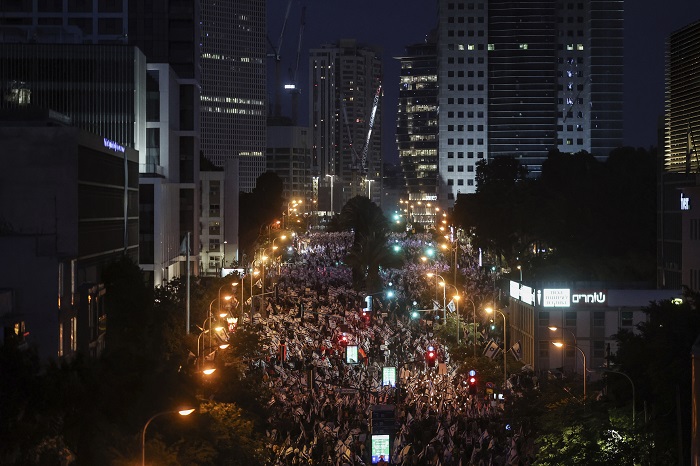 The prosecution asserts that in exchange for the gifts that included champagne, cigars and jewelry to the prime minister and his wife, Netanyahu helped the "Pretty Woman" producer with personal and business needs. Netanyahu denies the claims.
This follows an unusual development before the weekend in a related case. The three judges in the case against Netanyahu — in which he's accused of bribery through seeking positive media coverage in exchange for favors — summoned the prosecution and defense attorneys and told them that the bribery charge "may be hard to prove." They urged them to enter negotiations.
In a statement released on Sunday, the prosecution called the court to speed up sittings, underlining their frustration that the trial is moving slowly while also frustrated that the judges seem eager to see a plea bargain.
There's currently no talk of a plea deal, although some 18 months ago the two sides discussed a potential agreement whereby Netanyahu would confess to committing fraud and breach of trust and stay out of public life for some years. Those talks failed.
Also on Sunday, Netanyahu was facing turmoil over rampaging by hundreds of West Bank Jewish settlers who torched Palestinian cars, houses and farmland, and ransacked a mosque following an attack that killed four Israelis last week.
One Palestinian was killed in unclear circumstances and others have been wounded in the violence, which has been denounced by the U.S. and created strains within the government.
The chiefs of Israel's military, police and security services branded the settler rioting "nationalist terrorism" and pledged to fight it, as did Defense Minister Yoav Gallant.
Netanyahu has vowed to crack down on unsanctioned settlement activities but also has said he'd advance 1,000 more units in a nearby settlement in response to the killings.
(—With assistance from Amy Teibel)
---
©2023 Bloomberg L.P. Visit bloomberg.com. Distributed by Tribune Content Agency, LLC.
bulletin news world news