world news online news
By Adel Zaanoun with Joe Stenson in Jerusalem
Israel said Sunday it was pounding Gaza with "significant" strikes after cutting it in two, as America's top diplomat pressed a Middle East tour focused on humanitarian aid for the Palestinians. online news
Israeli forces "have encircled Gaza City… Now there exists a south Gaza and a north Gaza", army spokesman Daniel Hagari said.
Shortly before the strikes, internet and telephone lines were cut, and the strikes would continue over night and in the days to come, he added.
He spoke after US Secretary of State Antony Blinken visited the occupied West Bank, Iraq and Cyprus Sunday on a whirlwind tour with the focus on aid for beleaguered civilians in Gaza and preventing attacks by Iran-backed groups on American troops in response to Israel's Gaza war.
Blinken met Palestinian president Mahmud Abbas who denounced what he called "genocide" in Gaza, where the health ministry in the Hamas-run territory said at least 9,770 people, mostly civilians, had been killed in more than four weeks of war.
With telecommunications in Gaza cut for a third time, Washington rebuffed calls for a ceasefire and backed Israel's goal of crushing Hamas which staged the worst attack in the country's history on October 7, killing more than 1,400 people, also mostly civilians, and taking over 240 hostages, according to Israeli officials.
Global concern has soared over the spiralling Gaza death toll, but Israeli Prime Minister Benjamin Netanyahu again vowed that "there won't be a ceasefire until the hostages are returned".
world news online news
"Let them remove this from their lexicon. We are saying this to our enemies and to our friends," the veteran right-wing premier said after meeting troops at an air force base.
"We will simply continue until we win. We have no alternative."
Soldiers engaged in house-to-house combat on Sunday as tanks and armoured bulldozers churned through the sand in footage released by the army.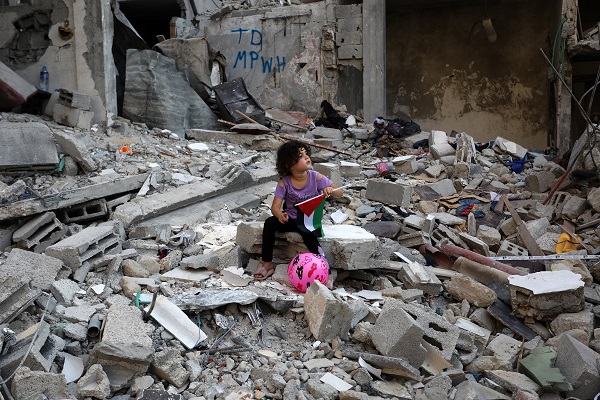 "This strike is like an earthquake," Gaza City resident Alaa Abu Hasera said in a devastated area where entire blocks have been reduced to rubble.
Blinken, in his talks with Abbas, said Palestinians in Gaza "must not be forcibly displaced", a US State Department spokesman said.
Israel has distributed leaflets and sent text messages urging Palestinian civilians in northern Gaza to head south, but a US official said Saturday at least 350,000 civilians remained in what is now an urban war zone.
Abbas denounced "the genocide and destruction suffered by our Palestinian people in Gaza at the hands of Israel's war machine, with no regard for the principles of international law," the official Palestinian news agency Wafa said.
"Stop extremist violence"
Israel has relentlessly pounded Gaza in its battle to destroy Hamas, levelling entire city blocks.
"Right now, parents in Gaza do not know whether they can feed their children today and whether they will even survive to see tomorrow," said Cindy McCain, head of the World Food Programme.
Blinken last week told a Senate hearing Abbas's Palestinian Authority (PA) should retake control of Gaza after the war. It currently exercises only limited autonomy in parts of the West Bank and Netanyahu has long sought to sideline it.
world news online news
Abbas said Sunday the PA could return to power in Gaza in the future only if a "comprehensive political solution" is found for the Israeli-Palestinian conflict.
Washington has said it backs a Palestinian state alongside Israel, but Netanyahu's hard-right government has been implacably opposed.
The war has exacerbated tensions in the West Bank, where more than 150 Palestinians have been killed in clashes with Israeli forces and in settler attacks, according to the Palestinian health ministry.
Blinken and Abbas discussed "the need to stop extremist violence against Palestinians" in the West Bank, the State Department said.
'We saw dead bodies'
Since Israel sent ground forces into the north of Gaza late last month, "over 2,500 terror targets have been struck" by "ground, air and naval forces", the army said Sunday.
Shortly after the phone and internet connections were cut, the Israeli army launched its intense bombardment on Gaza City and other nearby zones in the territory's north.
Some explosions were so powerful they could be heard in Rafah in the far south, an AFP journalist said.
Hamas said Israel was carrying out "intense bombings" around several hospitals in northern Gaza.
Images showed civilians heading south away from the fighting, though military spokesman Hagari told foreign reporters Hamas was using roadblocks to try to prevent them from fleeing.
"We saw dead bodies in the streets," Suhad Zorob said as she fled south. "We saw the tanks… only one street away from us."
The Gaza health ministry said Israeli bombing of Al-Maghazi refugee camp late Saturday killed 45 people, with an eyewitness reporting children dead and homes smashed.
world news online news
"An Israeli air strike targeted my neighbours' house in Al-Maghazi camp, my house next door partially collapsed," said Mohammed Alaloul, 37, a journalist working for the Turkish Anadolu Agency.
He told AFP the bombing killed four of his children, four of his brothers and several of his nieces and nephews.
The Israeli military has said it is looking into whether its forces were operating in the area at the time of the bombing.
Blinken faced a rising tide of anger in meetings with Arab foreign ministers in Jordan on Saturday, where he reaffirmed US support for "humanitarian pauses" rather than a ceasefire.
The new US ambassador to Israel, Jack Lew, said Sunday the October 7 Hamas attack was "a stain on humanity that cannot happen again".
US Central Command (CENTCOM) said an Ohio-class submarine — a nuclear-capable vessel — had arrived in the region.
'Not a war, a massacre'
After visiting the West Bank, Blinken made a brief stop in Cyprus, the nearest EU member state, which has said it is working towards establishing a maritime corridor for aid to Gaza.
He then flew to Baghdad and met Prime Minister Mohamed Shia al-Sudani.
world news online news
"I made very clear that attacks or threats coming from militias that are aligned with Iran are totally unacceptable," Blinken said in Baghdad.
Later Blinken was expected in Turkey, whose President Recep Tayyip Erdogan has held Netanyahu personally responsible for Gaza's growing civilian death toll.
Turkey on Saturday said it was recalling its ambassador to Israel and breaking off contacts with Netanyahu.
International concern mounted over the suffering.
French Foreign Minister Catherine Colonna, visiting Qatar, called for "an immediate, durable and observed humanitarian truce" that could "lead to a ceasefire".
Foreign Minister Sameh Shoukry of Egypt, the sole conduit for foreigners to escape Gaza and for aid to get in, on Saturday called for an "immediate and comprehensive ceasefire".
That call was echoed by thousands of protesters in Washington in solidarity with Palestinians, one of multiple rallies held from Indonesia to Iran, as well as in European cities.
Thousands also demonstrated in Israel on Saturday as pressure mounts on Netanyahu over his government's lack of preparedness for the October 7 attacks and its handling of the hostage crisis.
Hundreds outside Netanyahu's Jerusalem residence called on him to resign, while in Tel Aviv relatives and friends of some of the hostages chanted "bring them home now".
burs-jj/tjj
© Agence France-Presse
world news online news