world news online news
More than 40 human rights groups Monday condemned Iran's lethal crackdown on protests sparked by Mahsa Amini's death and called on the United Nations Human Rights Council to urgently investigate. online news
Amnesty International, Human Rights Watch and other groups voiced their "deep concern" about Iran's "mobilisation of their well-honed machinery of repression to ruthlessly crack down" on the nationwide protests.
Iran has been rocked by a wave of protests since 22-year-old Amini's death on September 16, days after she was arrested by the morality police in Tehran for allegedly violating Iran's strict dress code for women.
The coalition said evidence gathered showed "a harrowing pattern of Iranian security forces deliberately and unlawfully firing live ammunition and metal pellets, including birdshot, at protesters and bystanders including children".
They said the state crackdown had seen "growing numbers of protesters and bystanders killed", including at least 23 identified children, in four weeks of unrest.
They called on the UN Human Rights Council to "act as a matter of urgency by holding a special session and… establish an independent, investigative reporting and accountability mechanism".
This process should "address the most serious crimes under international law and other gross human rights violations" in the latest of successive waves of protest crackdowns over recent years.
"Without concerted collective action by the international community… countless more men, women and children risk being killed, maimed, tortured, sexually assaulted and thrown behind bars, and evidence of grave crimes risks disappearing."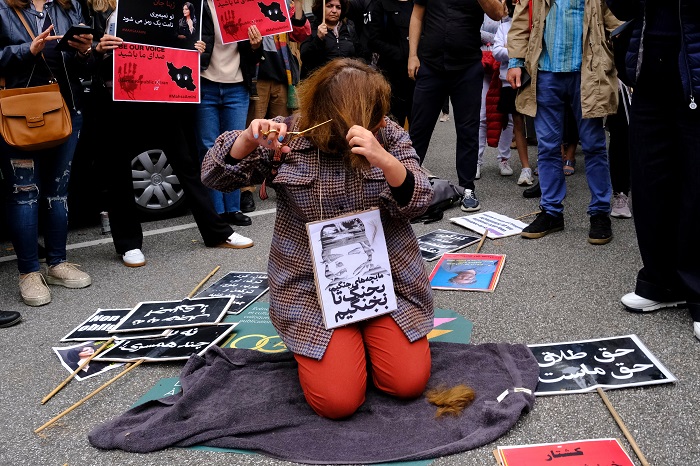 The groups also condemned Iran's "discriminatory and abusive compulsory veiling laws, which perpetuate violence against women and girls in Iran and strip them of their right to dignity and bodily autonomy".
world news online news
The alliance of non-government groups also included Iran Human Rights, the Center for Human Rights in Iran, Hengaw Organisation for Human Rights and the Balochistan Human Rights Group.
In Geneva, a spokesperson of the Human Rights Council, Rolando Gomez, said it had not received "any specific request for a special session of the HRC on Iran".
"For a HRC special session to be held, a formal request must be submitted by states with at least one-third of the 47 members" supporting the call.
Later on Monday, the UN Committee on the Rights of the Child, based in Geneva, said it "strongly condemns the grave violations" saying it was "alarmed by the killings by security forces of at least 23 children."
Citing what it said were "reliable reports", the committee said some children "were shot with live ammunition, while others died as a result of beatings", a statement read.
"Many families reported that, despite grieving for the loss of a child, they were pressured to absolve security forces by declaring that their children had committed suicide" or by making false confessions, it added.
It added it was concerned about a statement by Iran's education ministry on October 12 that arrested children had been "transferred to psychological centres for correction and education to prevent them from becoming anti-social characters".
At least 122 people have been killed in the crackdown on the Amini protests, and at least 93 more died in separate clashes in Zahedan, Sistan-Baluchestan province, according to an updated toll published Monday by Norway-based group Iran Human Rights (IHR). These tolls include 27 children, it added.
bur/pjm/dwo
© Agence France-Presse. All rights are reserved.
world news online news