headline news world news
Fighting in Gaza raged for a 23rd day Sunday after Hamas militants launched a surprise attack on Israel, killing at least 1,400 people, mostly civilians, according to Israeli officials. world news
Since the October 7 attack, the health ministry in the Hamas-run Gaza Strip says more than 8,000 Palestinians have been killed by Israel's relentless retaliatory bombardments, half of them children.
Here are five key developments from the past 24 hours:
UN warns of 'civil order' collapse
The UN warned Sunday that "civil order" was starting to collapse in the war-torn territory after thousands of people ransacked several of its warehouses and distribution centres in central and southern Gaza, taking wheat, flour and other basic items like hygiene supplies.
"This is a worrying sign that civil order is starting to break down after three weeks of war and a tight siege," said Thomas White, the Gaza head of UNRWA, the UN agency for Palestinian refugees.
Since the war began, only 84 aid trucks have entered Gaza, compared with a pre-war average of 500 trucks a day, UN figures show.
"The needs of the communities are immense, if only for basic survival, while the aid we receive is meagre and inconsistent," White said.
More troops enter Gaza
The Israeli army said it had increased its troops inside Gaza overnight as it steps up operations there, after Prime Minister Benjamin Netanyahu warned the war would be "long and difficult".
The army said it had struck "over 450 terror targets during the past day", hitting Hamas "command centres, observation posts, and anti-tank missile launch posts".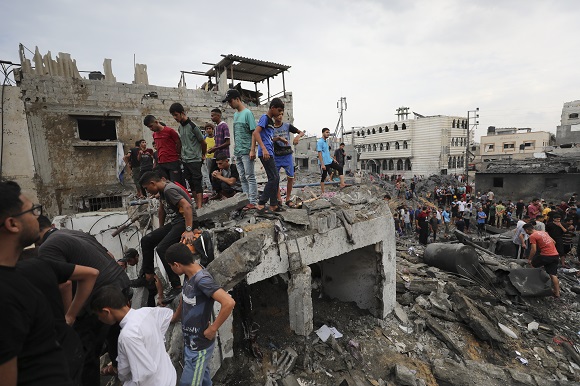 Defence Minister Yoav Gallant said Hamas had to be forced to the negotiating table over the hostages but said "the more firepower and the more we strike Hamas, the greater our chances are to bring it to a place where it will agree to a solution".
Prisoner swap
Hamas' Gaza leader Yahya Sinwar said Saturday the Palestinian militant group was ready for an "immediate" prisoner swap with Israel.
"We are ready to conduct an immediate prisoner exchange deal that includes the release of all Palestinian prisoners from Israeli jails," he said in a statement.
Gaza connectivity 'being restored'
Early on Sunday, there were signs of increased internet connectivity across Gaza some 36 hours after networks and phone access were cut as Israel intensified its bombardment, global network monitor Netblocks said on X, formerly Twitter.
"Real-time network data show that internet connectivity is being restored in the #Gaza Strip," it said.
Shortly after 4:00 am (0200 GMT), an AFP employee in Gaza City said he was able to use the internet and had managed to contact people in southern Gaza by phone.
Regional consequences
Iranian President Ebrahim Raisi said Sunday that Israel's ongoing bombardment of Gaza "may force everyone" to act in the latest warning that the conflict could spread across the region.
"The crimes of the Zionist regime have crossed the red lines, and this may force everyone to take action," he wrote on X.
burs-nl/dhw/ysm
© Agence France-Presse
headline news world news