headline news bulletin news
The Taliban have carried out hundreds of human rights violations in Afghanistan since seizing power last year, the United Nations said Wednesday, including extrajudicial killings and torture. bulletin news
"There's no denying that the findings of our report are extremely serious," Markus Potzel, acting head of the United Nations mission in Afghanistan (UNAMA), told a news conference in Kabul.
The Taliban have routinely denied accusations of rights abuses since overthrowing the previous Western-backed government, but a UNAMA report released Wednesday listed multiple accounts.
It documented 160 allegations of extrajudicial killings, 56 incidents of torture and ill-treatment, and more than 170 arbitrary arrests and detentions against former government officials and national security force members since August.
The most common methods of torture included kicking, punching and slapping, beatings with cables and pipes, and the use of electric shock devices.
It documented more than 200 instances of cruel, inhumane or degrading punishments — including beating shopkeepers for not attending mosque — and more than 100 cases of excessive use of force.
Since the end of the war, security has vastly improved across the country with a huge drop in civilian casualties.
But the Taliban — notorious for their brutal reign of terror between 1996 and 2001 — have sharply restricted the freedoms of Afghans, particularly women and girls.
UNAMA had 87 reports of violence against women and girls including murder, rape, suicide, forced marriages including child marriage, assault and battery, as well as two cases of honour killings — none of which have been registered with the formal justice system.
Among the cases documented were a couple who were publically stoned to death after being accused of having an affair.
Fiona Frazer, head of the UN's human rights mission in Afghanistan, said "impunity prevails" in Afghanistan, and acknowledged there may be an under-reporting of allegations.
She said UNAMA was "particularly concerned" about the involvement of the Taliban's religious police and intelligence service in abuses.
bullletin news headline news headlines
UNAMA said more than 700 civilians have been killed and at least 1,400 wounded in attacks mainly attributed to the local Islamic State branch, as well as unexploded mines.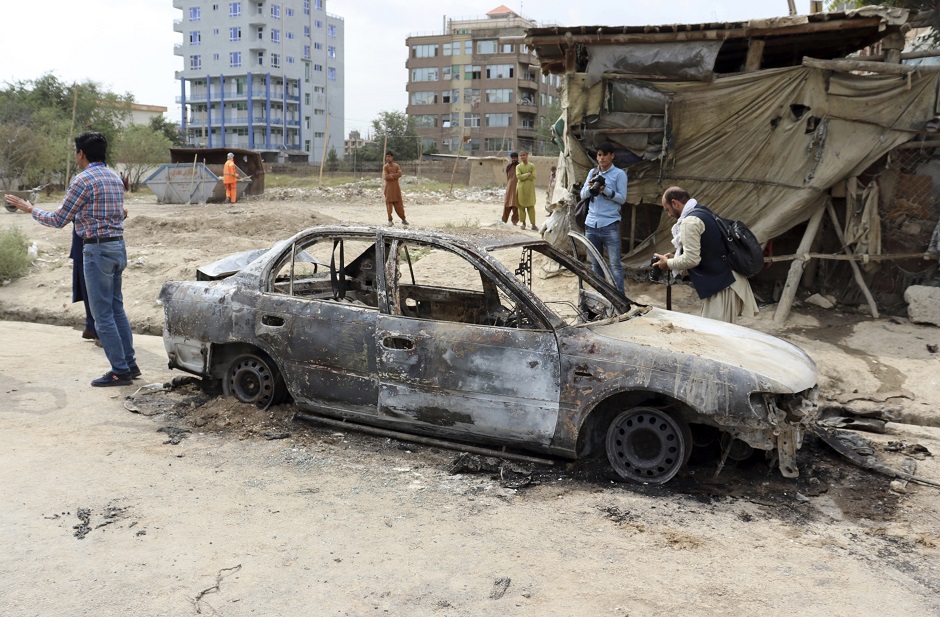 Senior government spokesman Zabiullah Mujahid rejected the report.
"No kind of arbitrary killings and arrests are allowed in the country. If someone kills or arrests arbitrarily, he is considered a criminal and will face the Sharia law," he tweeted.
ecl/dva
© Agence France-Presse. All rights are reserved.
headline news bulletin news
Notes from APS Radio News
At its website in October 2016 the Friends Committee on National Legislation published statistics and information pertaining to the costs of the war in Afghanistan.
According to the "Costs of War" at the Friends' website, as of October 27, 2016, in Afghanistan alone, 43,000 civilians were killed in the war.
In the Afghanistan war, 4,527 US forces were killed; the number of US forces wounded were 52,010.
As well, 64,000 Afghan police and military personnel were killed.
As a result of casualities endured in both the Iraq and Afghanistan wars, as of October 2016, 600,000 veterans have already been treated at veterans medical facilities.
In addition, 970,000 Iraq and Afghanistan veterans have registered disability claims with the Department of Veterans Affairs.
According to the Friends' website, relative to October 2016, Future disability and health-care costs for Iraq and Afghanistan veterans is conservatively estimated to be $600-900 billion.
Since 2005, at least 78,000 veterans committed suicide. Likely those numbers are higher to this time.
In 2014, an average of 20 veterans committed suicide every day.
The Rand Corporation has estimated that approximately 320,000 service members may have experienced traumatic brain injury during their deployment.
As of October of 2016, the total costs of both the Iraq and the Afghanistan wars was $6.4 trillion; the website estimated that an additional $8 trillion would be paid in interest.
During the summer of 2001 representatives of the US, Unocal Oil and the Taliban met to discuss a possible deal concerning the siting and building of a pipeline in Afghanistan.
Those talks failed to find a resolution.
In his book, "Forbidden Truth: U.S.-Taliban Secret Oil Diplomacy, Saudi Arabia and the Failed Search for bin Laden", Jean Charles Brisard wrote that US representatives and those of Unocal wanted a pipeline built through Afghanistan and were engaged in talks with Taliban representatives in 2001.
The author described threats that were made to the Taliban.
Jean-Charles Brisard is a French international consultant and expert on terrorism. In 1990, he was assistant for foreign Policy of U.S. Senator Timothy E. Wirth, in charge of reporting on international sanctions mechanisms and terrorism.
headline news bulletin news