economy news online
Stocks slumped on Friday after Federal Reserve boss Jerome Powell pledged to act "forcefully" against soaring inflation in a battle that will be painful for American families and businesses. news online
The Fed has been on an aggressive campaign to raise interest rates — and Powell made it clear at the Jackson Hole gathering of global monetary policymakers that the fight against inflation is not over.
"Restoring price stability will take some time and requires using our tools forcefully to bring demand and supply into better balance," he told the gathering, held against the backdrop of the majestic Grand Teton mountains.
Modest signs of slowing in the world's largest economy and easing price pressures spurred hope in financial markets that the central bank might ease up on its aggressive interest rate hikes, and perhaps even start to reverse course next year.
But Powell doused those hopes, making it clear that Fed policy and the benchmark borrowing rate would have to remain "sufficiently restrictive" to return inflation to its two percent target.
"While higher interest rates, slower growth, and softer labor market conditions will bring down inflation, they will also bring some pain to households and businesses," Powell said.
"But a failure to restore price stability would mean far greater pain."
Wall Street stocks moved higher as Powell wrapped up his speech, perhaps because he indicated the jury was out on making a third straight 0.75 percentage point hike in interest rates in September.
But then they promptly slumped lower, with the Dow down 1.6 percent in late morning trading, while the S&P 500 fell 1.9 percent and Nasdaq Composite tumbled 2.5 percent.
"On balance, markets are viewing Powell's comments as more hawkish than anticipated," said Matt Weller, Global Head of Research at FOREX.com and City Index.
In addition to the reaction in equities trading, he pointed to the yield on two-year Treasury bonds rising to a near 15-year high.
"Mr. Powell clearly hit a hawkish note, emphasizing the importance of leaving policy tight until inflation was thoroughly licked," he added.
The dollar slid against the euro, but rose against the yen and pound.
Sentiment had been boosted ahead of Powell's speech by the latest readings of the US personal consumption expenditures price index, the Fed's preferred yardstick for inflation, which dipped 0.1 percent from in July from June, and slowed to 6.3 percent from 6.8 percent on an annual basis.
Electricity prices shock European stocks –
European equities also saw losses deepen after Powell's speech, but stocks there had already been struggling after signs that energy prices are likely to keep fuelling inflation.
Sentiment in London had been dented by news that UK domestic energy bills will rocket even higher this year on surging wholesale gas prices as Britain's cost-of-living crisis worsens.
economy online news
Frankfurt and Paris stocks retreated amid fears of a eurozone energy crunch in the coming peak-demand winter as Russia curbs supplies.
Europe's benchmark Dutch TTF gas contract rose Friday 341 euros per megawatt hour, not far from the record high struck in March after key gas producer Russia invaded Ukraine.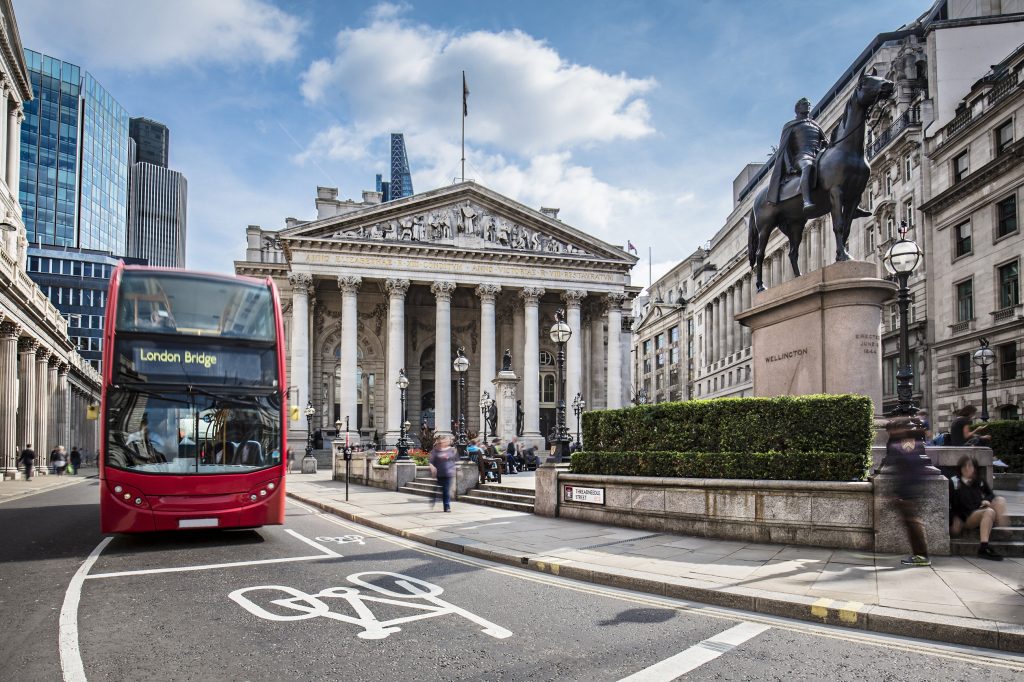 Meanwhile, German and French electricity futures prices soared to new records that are at least 10 times above last year.
Elsewhere, Asia was buoyed by signs of progress in talks between US and Chinese regulators that could see tech titans including Alibaba and JD.com avoid a delisting in New York.
More than 200 Chinese firms have for months had the threat of a New York delisting hanging over them as they are caught in a wide-ranging row between the world's two biggest economies.
Key figures at around 1530 GMT –
New York – Dow: DOWN 1.6 percent at 32,760.77 points
EURO STOXX 50: DOWN 2.0 percent at 3,601.90
London – FTSE 100: DOWN 0.7 percent at 7,427.31 (close)
Frankfurt – DAX: DOWN 2.3 percent at 12,971.47 (close)
Paris – CAC 40: DOWN 1.7 percent at 6,274.26 (close)
Tokyo – Nikkei 225: UP 0.6 percent at 28,479.01 (close)
Hong Kong – Hang Seng Index: UP 3.6 percent at 19,968.38 (close)
Shanghai – Composite: UP 1.0 percent at 3,246.25 (close)
Euro/dollar: UP at $0.9999 from $0.9974 on Thursday
Pound/dollar: DOWN at $1.1774 from $1.1832
Euro/pound: UP at 84.93 pence from 84.31 pence
Dollar/yen: UP at 137.31 yen from 136.49 yen
West Texas Intermediate: DOWN 0.2 percent at $92.35 per barrel
Brent North Sea crude: UP 0.2 percent at $99.54
burs-rl/ach
© Agence France-Presse. All rights are reserved.
economy online news
Notes from APS Radio News
During the past few years, a number of the world's central banks have engaged in massive programs of monetary expansion, even as jobs and businesses were lost by way of virus-related restrictions and quarantines.
For example, beginning in March of 2020, the US Federal Reserve engaged in a substantially greater program of monetary expansion by purchasing hundreds of billions of dollars of Treasury and corporate bonds.
Since the early part of March 2020 to date, the Federal Reserve has added over $4 trillion to its holdings.
In particular, whereas on or about February 24, 2020, the holdings of the Federal Reserve stood at $4.2 trillion, on or about January 17, 2022, the holdings of the Federal Reserve stood at about $8.9 trillion.
As well, the Federal Reserve has kept interest rates low.
Some months ago Jerome Powell, the head of the Federal Reserve, said that he wasn't concerned about inflation and that, for the none, the Federal Reserve would keep interest rates at low levels.
For its part, between March 2020 and the beginning of this year, the European Central Bank increased its holdings by about $3 trillion.
Another examples is that of the Bank of Japan.
According to Fred Economic Data, as of October 2021, the Bank of Japan's holdings were about $6.4 trillion or about 725 trillion Yen.
In the early part of March 2020, the Bank of Japan's holdings were $5.3 holdings. During the period mentioned, the Bank of Japan added over one trillion dollars to its holdings.
A number of corporations have been borrowing money inexpensively and have been purchasing their own shares of stocks, increasing share prices of stocks.
Still, there are concerns among investors.
A number of them have expressed concerns about central banks' eventually increasing interest rates, as, during the past year, inflation levels have been increasing.
The combination of low interest rates, expansive monetary policies, fiscal stimulus programs, which themselves have infused trillions into the US economy, and shortages of goods and services caused by virus-related restrictions and lockdowns has increased levels of inflation.
Investors also have worried, for example, about announcements that were made by companies like Toyota and VW; months ago, those companies announced that because of shortages of particular types of material, they would be reducing levels of production.
Months ago, the results of a survey of UK manufacturers were released.
That survey indicated that many businesses in the UK were concerned about shortages of supplies.
In general, jobs and businesses have been lost by way of mandates, restrictions and quarantines, which, in their turn, were imposed by way of the virus narrative.
In the US, overall, the mortality rate of the virus is about .069%, according to Statista, an award-winning service.
The recovery rate is over 99% for most age groups.
What has followed in the wake of lockdowns and mandates has been the infusion of trillions of dollars into the US economy, the increasing succeess of online businesses like Amazon and other large online retailers, various bank and tech-related stocks, the shuttering of small to medium-sized businesses and the loss of millions of jobs.
Another result has been the increasing levels of inflation, especially those of food and fuel.
In official terms, for purposes of reporting, the US Labor Department uses what is called "core inflation".
Core inflation excludes items like food and fuel, as those are deemed too volatile.
economy online news